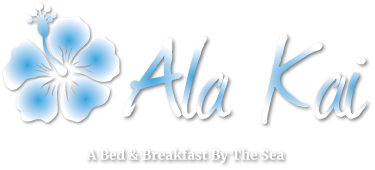 Hawaii Island's Aloha
Experience Hawaii Island's Aloha, Waterfalls, Volcanoes and Beaches in Puna, Hawaii
Aloha!
Have you ever wanted see the raw force and power of a volcanic eruption, the splendor of a pristine Hawaiian black sand beach or stunning waterfalls? Maybe you've dreamed of listening to the sounds of the rainforest with the surf in the background at night. Well dreams do come true. Join us for an authentic Hawaiian vacation that you will never forget.
Ala Kai Bed and Breakfast is the perfect base for couples and groups. We are conveniently located near Volcanoes National Park, waterfalls, Rainbow Falls, black sand beaches and stunning rainforest. Let us introduce you to Puna's warm aloha and a hidden Hawaii that most will never see.
Ala Kai in Hawaiian, means road by the sea. Once you see our beautiful bed and breakfast, you will understand why we chose that name.
For the early risers, we invite you to start your day with the often-spectacular sunrise on the ocean view lanai. We'll then treat you to a leisurely continental breakfast featuring local fruits, strawberry papaya, sun ripened Big Island pineapple, rich Hawaiian coffee, teas, juice, fresh baked bread, Suzy's fresh baked banana bread and local hard-boiled eggs. If you would like to check your email, high speed wireless internet connection is available.
Once fortified with breakfast, stroll along the oceanfront, hike over lava fields, wander through the rainforest or observe the active volcanoes. Be sure to swim in our ocean view pool, relax on the lanai, enjoy the ocean breeze, or read your favorite book. During the months of December through April, you'll want to be sure and watch the whales.
At the end of your glorious day, allow the tranquil sounds of the ocean waves and swaying palm trees lull you to sleep in one of our guestrooms in the main house. If you desire more seclusion, the Ohana Cottage is a fully equipped, two-bedroom cottage with its own lanai.
We are perfectly situated on Kaloli Point on the rugged Puna Peninsula on the Big Island. Off Highway 130 between Kea'au and Pahoa. Ala Kai Bed and Breakfast is a scenic 17-mile drive south of the Big Island of Hawaii's Hilo airport and 25 miles northeast of Volcanoes National Park.
What our customers think of us!